Community Solar v. Owning Your Solar Electric System
We have been seeing more interest from some of our area Electric Cooperatives investigating Community Solar.
What is Community Solar? How does it work? Who benefits? Is it better to invest in Community Solar or into you own solar electric system?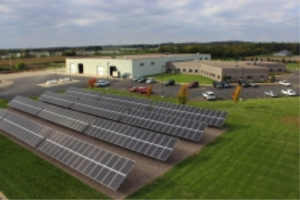 When an electric cooperative installs a community solar system (also called a solar garden or solar farm), they invest in a large grid tied solar electric array. The picture above is from Barron Electric Cooperative. The Barron Community Rays array consists of (340) 280-watt solar panels.
Co-op members are invited to purchase 'shares' in the community solar project. Not so coincidentally, one share is equal to one 280watt solar panel. The energy that each 'share' generates is credited towards the member's electric bill. Members can purchase multiple 'shares to reach their energy generation goal, or a maximum of 10 shares.
Let's look at how this works
The cost to participate is $890/share (or panel). They expect that the 280 watt module will generate 385kWh of energy per year.
At 10.89¢/kWh, each panel generates about $41.92 of electricity per year – credited to your electric account.
If you were to purchase the maximum 10 'shares', your cost would be $8,900. You could expect to generate 3,850kWh of energy in the first year, valued at $419.20
To participate, you would sign a 20-year agreement with Barron.
A Community Solar project works very nicely for co-op members that;
Their home has a very poor solar resource. Maybe they live deep in the forest or do not have a roof surface that is suited for solar.
Your roof is not large enough to fit the number of solar panels you would like.
Members that rent or live in condominiums.
Members that own houses with very strict and unfavorable neighborhood covenants.
But if you own a home with a good solar resource and adequate roof space or ground space for a solar array of your own, you may find that purchasing your system and installing it on your property to be cost effective. Let's compare the same 10-module PV system.
Your cost might be about $12,900
The system could generate about the same 3,850 valued at $419.20
Your system could qualify for a Focus On Energy incentive of $1,507
Your system would qualify for a $3,418 federal tax credit.
Your net investment for the 10 PV module system: $7,975.
The system has an anticipated life of over 30 years.
You are not limited to 10 PV modules. You could offset a greater percentage of your overall energy use.
If you sell your property, you can realize the appreciated value of a home with a solar energy system.
Barron's Community Rays is just one example of a community solar project. The details vary from project to project. But if you own your home or business, it would be wise to call your local installer and get the price of a solar electric system that is installed on your home or property. You may find it very worthwhile.
Whether you own your solar electric system or enter into a Community Solar project agreement, solar energy is a terrific investment.