WOOD COUNTY GROUP BUY
In September 2014, North Wind kicked off our first solar electric system bulk buying program called the 'Portage County Solar Group Buy". Our goal was simple - to reach out and bring people together for an informational session, provide free solar site assessments, provide people with a discounted price on a solar electric installation, and support community non-profits.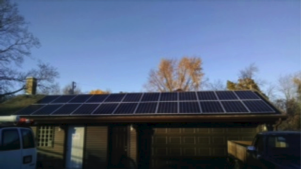 One of the Portage County Solar Group Buy Installations;
a 24-module 6.6kW system in Stevens Point
As we close the books on Portage County Solar Group Buy, here are the results;
15 participants
348 solar panels installed totaling 95.765kW of capacity
Total of Group Buy discounts and program-end rebates realized by the participants; $18,084
$5,745 in donations to Portage County charities
15 one-year memberships to Central Rivers Farmshed.
To summarize, the average system size was 23 panels or 6.38kW. That average system generated an average of 8,258kWh of energy.
The average system;
Initial 2.5% Group Buy Discount: $639
Focus on Energy Incentive: $2,400
Value of 30% Federal Tax Credit: $6,759
Final Group Buy Rebate check: $630
Net Cost To Participants: $15,134
Saved the system owner about $1000 in electric bills in the first year.
Eliminated 5 tons of coal burning and 18,000 pounds of CO2 emissions each year.
Let's do it again. This time, it is Wood County's turn;
How the program works
The program officially begins June 1st and will run through December 31st, 2015. North Wind will be holding short educational sessions in the community to talk about the program benefits and vision. Here are the next educational sessions;
Thurs June 11, 5:30pm @ Marshfield Public Library
211 E 2nd St, Marshfield
Wed June 17, 5:30pm @ Incourage Community Foundation
478 Grand Ave
Check out our Facebook page for more education session information
For interested and qualified candidates, North Wind carries out a free solar site assessment to gather system design details. Site assessments must be completed by August 31st 2014 to be eligible for the WCSGB incentives.

Based on the site assessment, North Wind provides a system proposal to the participant. If the participant decides to proceed, the purchase agreement is signed with a 2.5% material discount applied immediately and installs the system before the end of the program term.

At that point a $50/kW donation is made to The Incourage Foundation's Tribune Building Project or a local charity chosen by, and on behalf of, the participant.
Solar Electric installations must be completed by December 31, 2015.

At the end of the program period, North Wind provides an additional rebate to the program participants based on the total number and size of systems installed. The higher the participation, the bigger the rebate!
5-9 participants = 1.25%,
10-19 = 2.5%,
20-29 = 3.75%,
30-39 = 5%,
40+ = 6.5%
This is an additional rebate on top of the original 2.5%
System owners are still entitled to the 30% Federal Tax Credit for renewable energy system installations plus any available Focus On Energy incentives.


How the Wood County Solar Group Buy benefits you

Reduces the cost of a solar electric system for participating homeowners
Environmental stewardship, energy security, energy independence, and reduced environmental impact from traditional fuel emissions
Simplified, streamlined system installation, permitting, incentive application, and interconnection processes
Free 1-year membership or renewal to Central Rivers Farmshed
Support of local causes and organizations in your community
Support of local business that uses many American made products
You become the owner of a solar electric system that generates free, clean energy for many years!
So, know someone in Wood County? Do them a favor and forward this story to them.