Solar Power IS Good Business
More businesses in Wisconsin are looking at commercial solar as a way to meet their energy needs. A solar system can reduce or eliminate your energy costs while increasing your business's marketability. We'll come up with a solution that's best for your bottom line. There are a number of incentives available for commercial projects and Northwind can help secure these funds for your project by determining your eligibility, as well as writing and submitting grant applications.
There has never been a better time to invest in solar energy.
We all know that solar saves money on your monthly energy bill, but solar also:
Increases the visibility and image of your business
Creates excitement and pride with your current employees
Enhances your image to prospective employees and customer base
Makes a strong statement about your companys values
Technologically sets your company apart from your competition
Demonstrates leadership in your community
Commercial Incentives
There are a number of incentives available for commercial renewable energy systems. As with residential incentives, programs can change so please contact Northwind for details and updates.
Federal Tax Credit (ITC): Provides commercial installations with a 30% tax credit. The ITC will be available at 30% through 2019, then scheduled to reduce to 26% and 22% the following two years.
Focus On Energy: Focus on Energy is offering up to $4,000 in a cash back rebate payable in 8-10 weeks after system commissioning for commercial systems.
USDA Rural Energy for America Program (REAP) grant: Offers an annual grant for rural businesses and agricultural properties that can pay up to 25% of an installed system cost. Northwind can offer to write your grant application. Northwind will help pre-qualify you for this grant program prior to grant writing.
Modified Accelerated Cost Recovery System (MACRS): Provides accelerated depreciation for renewable energy installations. The Consolidated Appropriations Act, signed in December 2015, extended the "placed in service" deadline for bonus depreciation. Equipment placed in service before January 1, 2018 can qualify for 50% bonus depreciation. Equipment placed in service during 2018 can qualify for a 40% bonus depreciation. And equipment placed in service during 2019 can qualify for a 30% bonus depreciation.
PACE Financing
The property assessed clean energy (PACE) model is an innovative mechanism for financing energy efficiency and renewable energy improvements on private property. PACE loans help commercial property owners overcome financial barriers that could discourage investment in solar energy or other energy efficiency measures to existing properties or original construction in new buildings. Improvements financed using PACE can generate positive cash flow upon completion with no up-front, out-of-pocket cost to property owners and:
Your business can receive Focus on Energy incentives.
Your business can apply for the 30% Federal Investment Tax Credit on your business tax return.
Your business can take advantage of the 5-year MACRS depreciation schedule.
And, your business will take advantage of energy savings from the solar array each and every month.
All told, many businesses that install a solar electric system and finance with PACE will show a positive cash flow from the first day the solar system is in operation.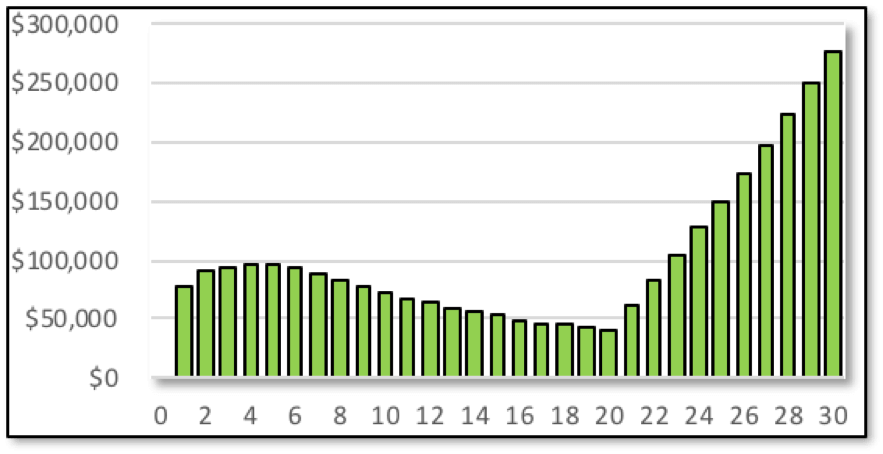 Example 30 year solar project cash flow with PACE financing
Which businesses show the best financial performance?
Consume 100,000 kWh+ per year
At least 8,000 square feet of flat roof space or 4,000 square feet of pitched roof space.
These businesses might include (but certainly not limited to): Light industrial, Warehousing, Offices, Hotels, Mid-sized retail.
The Process
Step 1 – Consultation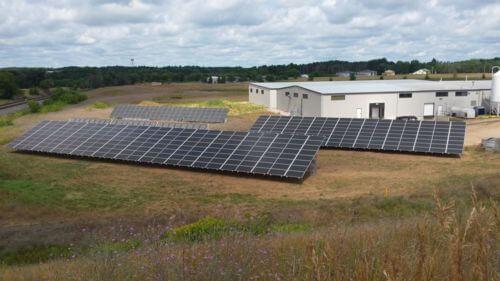 Call us. It all begins with us getting to know you, your business and your goals for solar. There are no site visits until both of us are ready. At Northwind, we believe you should have a basic understanding of solar, know what size system might work well for you, how much it may cost and what kind of incentives are available to you. There are usually a lot of questions – we find a phone conversation works best at this point in our relationship. An informed customer is our best customer.
To get started, we need to understand how your business uses electricity, when you use electricity and how much electricity you use. The best way for us to get this information is directly from your utility provider. We will ask you to sign a 'Customer Authorization' form which will grant us access to your electric use information. This gives us much the information we need to begin an initial solar design that will best suit the way you use electricity, your available solar resource, and your budget. Then, based on your feedback, we can modify that design until we reach the design that is right for you.
Step 2 – The Site Visit
After you have an understanding of solar energy, its costs, energy generation and how it will work on your business, an experienced Solar Design Consultant will schedule a visit with you. We will look over your roof, verify your solar resource and evaluate your electrical system. A thorough site evaluation is critical to the successful design and installation of your solar electric system. The result is a customized, turn-key solar installation proposal for you.
Step 3 – You are ready to go solar!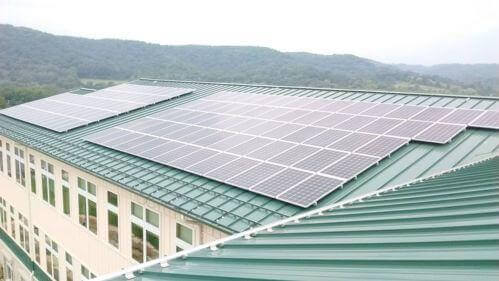 Once we have that perfect system designed for you – one that meets your energy goals and your budget, we will enter into a purchase agreement with you. At this meeting, we will sign utility interconnection paperwork and apply for any incentives you may qualify for. We will also collect the first payment for your solar array.
Now the wheels start turning. We order your equipment, submit the interconnection paperwork to your utility and secure all the needed permits. You'll never have to deal with the stress of getting your system approved by the right people or worry that it might give you complications later on. Every system we install adheres to strict National Electric Code (NEC) requirements.
Step 4 – Management and Installation
Our team orchestrates the entire process, keeping an eye on everything—minimizing any hang-ups or project delays, meaning that you get your solar, and your savings, quickly. Our talented installation crew is the best in the business and we put the right people on the right job. We monitor every aspect of your project to ensure it's finished quickly, aesthetically and electrically correct.
Step 5 – Utility Interconnection, Inspections and Commissioning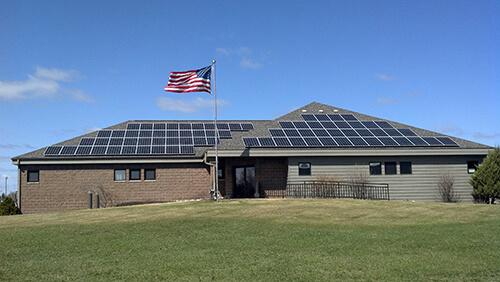 Today is the day you are powered by the sun! We schedule and represent you at the utility inspection and your municipality's inspection. We commission your system to ensure that it performs as we designed it. We will explain how your system works, and when you need to call us if it does not. There is really not that much for you to do as a solar system owner. That is the beauty of solar energy. You will never look at a sunny day the same way again!
Step 6 - Monitoring
Once your project is completed, our team keeps an eye on performance via online performance monitoring software. Should you opt to include on-line monitoring with your solar system you can see what your system is doing for your business, any day, any time from your computer or smartphone. If there is ever an issue, we will be notified immediately and will contact you to remedy the problem and if necessary we can dispatch a service technician to fix the problem.
Taking the Next Step
Research your options: A little research goes a long way; the Solar Benefits Page on our website is a great place to start. You can also contact Northwind using our Online Contact Form or by calling (715) 630-6451.
Review benefits and key considerations: As with any investment, it is a good idea to understand the benefits and key considerations related to commercial solar power. Such due diligence will help you throughout the decision process, beginning with your free consultation with Northwind.
Contact Northwind: Use our Online Contact Form to describe your needs/interests and to submit any questions you might have. We will contact you to discuss the solution that is right for you. You can also contact us by calling (715) 630-6451.